FaerieTalesNeverDie:
Do you believe in Faeries?
"… one such keeper and creator of folklore is Italian photographer and artist, Ylenia Viola. With her extraordinary world filled with enchanted winged creatures, she portrays her supernatural alter egos in a sublimely beautiful parallel universe. Viola implores us to delve more deeply, to rethink physics, time and need for logic; coaxing us to live recklessly within the undefined and to play more peacefully in paradoxes. Her invitation is clearly written: imagine the unimaginable".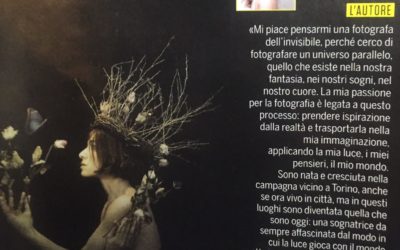 Flora on Nikon Magazine My .V.A.R.I.A.T.I.O.N. #22 aka "Flora" published on the Nikon Magazine. "Flora. Carrying the closest flowers. Sustaining the last reminiscences of life. Giving breath to the few, loyal roses that never abandoned her. Flora. Escaped from the end...